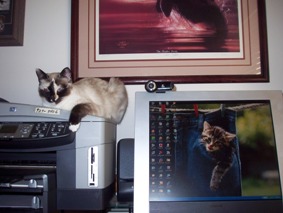 Here's Hope — getting into "the picture."   "Hoping" her cute pose will get my attention.
 And, when she doesn't get what she wants, she lets me know.  As she did here.  "Hey..you…it's ME.  Yo…I know you like the screensaver with the cat on the clothesline sticking out of the jeans…but hey…get real! 
Here I am… I REALLY am sitting on your printer…looking…oh, I don't know…so much more svelte with my paw just soooo.  The perfect mime!  See?  I can do that…you know, hang my paw…perfectly.
So…uh…like…could I just get a little attention here, please?"
Around here it's sometimes just not enough to get spoon fed  gourmet cat food. 
 "Sometimes WE (me and my  mate the Princess)…  and we determine the sometimes…want to have your immediate and undivided attention. 
Regardless of what you might be doing…it is important for you to remember…before all else…you are staff…CAT staff .  Continue reading →