My sister, who lives in Alaska,  has spent the last week visiting our mother and her dog, Annie in northern California.  Annie is an Australian Shepherd.   Highly intelligent, extremely protective, and very energetic.  She has the short tail, regal demeanor, and herding abilities the breed is known for.  And, along with her master,  she loves her toys.
She also attaches to, and protects them…they're her buddies.  While my sister has been visiting, she has taken on the task of doing some minor surgery on a few of Annie's favorite toys that have  fallen prey to tug-of-war games, or toss-and-flop tussles.
While a good full-mouth tooth grab, a proper low-down front leg stance and vigorous head shaking in a tug-of-war game are clearly intended to ensure a win, the toys are often the innocent victims of the sharp teeth and push-pull pressure.  Hence, the required surgery.
Words could describe what is clearly worry about what's happening to one of her "buddies"  during the  surgical intervention depicted below.  Words could also be used to tell about her relief, joy, and gratitude when the surgery's completed.  Pictures, however, as they say, are worth a thousand words: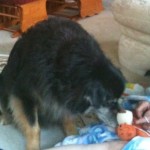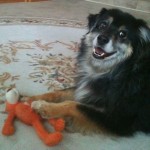 Animals communicate so eloquently.  No word need be spoken.  No miscommunication…a "look" can say it all.  They can be endearing or intimidating without ever raising their voice.  Not that Annie isn't capable of a good, sharp bark or two if that helps get the message across.  Or a heel nip,  or a great blocking maneuver  if anyone should make the mistake of getting too close (within a foot) of her master, whom she guards with her life.  Seriously.  On occasion, her zealousness in guard duty have caused her to be called "Awful Annie."  (good dog)
My sister and I love Annie.  She brings great joy to our mom.  Annie reminds Mom when it's mealtime…for both of them.  Annie loves to go for drives, and people-watching is one of her greatest enjoyments  while groceries are being procured from the local grocery store…or better yet, the local farmers with farm animals to watch while local produce is picked up.
And she takes our mom for daily walks, good weather or bad, which keeps them both in good health.  She helps ensure they have sufficient social activities by introducing Mom to the owners of the other dogs who are taking their masters for walks, as well as helping to point out the abundant forms of wildlife that exist in the neighborhood…squirrels, rabbits, birds, CATS, racoons, mice, and the occasional wild turkey or deer that somehow find their way into the neighborhood and parks where they stroll.
So a few minor surgical procedures to ensure her buddies are kept in good shape, and have lots of life left for playing is but a small reward for all that she gives.  Yes, she could have new toys.  Everyone in the family, plus lots of friends,  would, could and  do contribute.  There's nothing quite like well-known, well-worn, and much used favorite buddies, though, to let her know she's safe, secure, and appreciated.
At my house, I have cats…two bundles of purring fur that provide helpful paws for me.  We briefly discussed going for a walk here this morning …in the snow…no less.  Once again, so eloquently, and without one word spoken, the communication, and consensus, was very clear.  Not a chance!